Learn more about the latest features!
With the new and simplified dashboard, you will soon be able to manage your programs and create campaigns even more easily. In this article, we explain all the changes and which functionalities we will be adding in the coming period.
New navigation
The menu bar has been moved from the sidebar to the top of the dashboard for easier navigation.
This makes it easier to switch between different pages. The modules you use can be found at the top of the menu bar. On the top right you will find your tools (such as narrowcasting, files and projects), the settings and your profile.
At the moment, it is still possible to switch between the new and old navigation via the homepage. At the beginning of next year, we will make the final switch. We therefore recommend using the new dashboard as of now and getting familiar with it.

Contacts and contact lists
Loyalty members and recipients become one group called Contacts. This means you no longer need to synchronise them. Contacts can be (or become) loyalty members, but also recipients of your marketing campaigns. Or both, of course.
Using contact lists, you can segment your contacts with different filters based on a contact's attributes. Think of a dynamic list for new contacts over a certain period. Or a list with people who have entered a date of birth. Based on these contact lists you can, for example, send automatic marketing campaigns or set up loyalty rules.
Simplified e-mail marketing (Coming soon)
You can now create an e-mail directly when sending a one-time campaign. You don't have to go to your projects anymore to determine the content of the email. We're also adding the option to rate an email first, so you or your team can check all settings.
Automations (Coming soon)
With the automations tool, you can build your own workflows. These replace the current periodic and triggered campaigns. With these automations, you can send automatic mails to your contacts at set times, or receive notifications of actions from the customer.
Think for example of the following automations:
An e-mail to a contact when he/she has saved a certain number of points;
Sending a welcome mail, birthday mail or a mail to customers who have not visited for a certain period;
A notification to yourself when someone signs up as a marketing recipient via a form on the website;
Receiving a notification when someone has purchased a gift card via the widget;
Sending an email when the contact comes for the first time;
Sending webhooks to third parties.
You can filter these automations according to the different contact lists you create.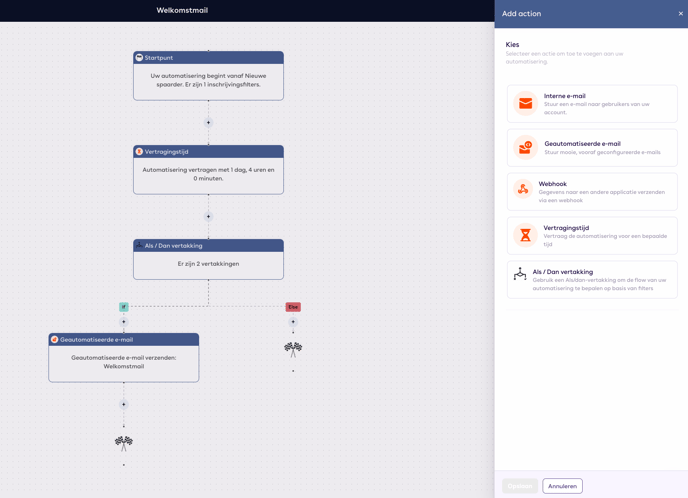 Forms (Coming soon)
With the new forms, we are extending our current registration form. You can create your own form and integrate it on your website. This way, you can collect e-mail addresses and other data, such as the (first) name, type of pet or dietary preferences. You can also use it as a feedback form for your customers.
Need help with the new dashboard? Feel free to contact our Support Team or join our events!